Areas and Permits for Trekking Nepal


See trekking areas in Nepal, required procedures and permits below. If you are ready to get started in planning your trek, send an inquiry to our Trekking Sponsors.
nepal trekking areas
Where to Trek
The entire length and breadth of the Kingdom is a paradise for trekkers. There are easy walks lasting a few days and there are strenuous expeditions that take several weeks. All of them have great scenery. Here are a few: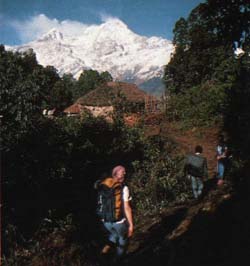 Annapurna
The most popular trekking route in Nepal takes you through some of the most stunning scenery on earth. You will be walking through rhododendron forests over the foothills of the Annapurna and Dhaulagiri ranges and through the Kali Gandaki Gorge, the deepest in the world. Treks to the Annapurna region start from the lake-side resort town of Pokhara. Maximum elevation 3,939m
Everest
The highest mountain in the world continues to lure adventurers as ever. A hair-raising flight lands you at the airstrip of Lukla (2,850 m) from where you begin walking to the famous Sherpa village of Namche Bazaar and on to Tengboche monastery with the mesmerizing peak of Ama Dablam hovering in the sky. Then it's over the glaciers to the foot of Everest for the view of a lifetime. Maximum elevation 5,546m
Langtang
The third most popular trekking region in the Kingdom lies directly to the north of Kathmandu. The Gosaikund lakes situated here are a much-revered Hindu pilgrimage site. Langtang offers baffling extremes in topography and climate conditions. In just one day you can traverse five different vegetation zones trekking from the subtropics to timberline. Maximum elevation 4,480m
Remote Areas
For those who want to get off the beaten track, there is the trail to Mustang (maximum elevation 5,400m) north of the Annapurna range which offers mind-boggling landscapes and mystical cultures. Manaslu in west-central Nepal (maximum elevation 5,213m) offers a diverse range of pristine eco-systems. Makalu in the eastern part of the country (maximum elevation 5,350m) takes you through isolated valleys and high mountain passes to the base of the fifth highest peak on earth. Dolpo in northwest Nepal (maximum elevation 4,500m) captivates visitors with its Phoksundo Lake and unparalleled scenery.
nepal trekking permits
A trekking permit is required to trek in any part of Nepal. If you want to trek two areas, you will need two permits. Each permit requires details for the route and region. Police check points are set up in some areas so do not venture off the set route unless you carry cigerettes for officers.
Trekking Area
Permit Fee
Annapurna, Everest, Langtang
78% of all trekkings went to one of these three places in 1998. Also see National Park Fees below.
FREE
Rara, and other areas.

US $5 per week
US $10 per week
(after 4th week)
Dolpa* and Kanchanjunga*
Less than 1% of all trekkers tour here
This is Remote trekking
US $10 per week
US $20 per week
(after 4th week)
Manaslu* - Another Remote area

US $75 per week (low season) US$90 (high season)

Mustang* and Upper Dolpa*
The governments gonna get you on this one.
US$ 700
US $10 per Day
(after first 10 days)
* Through registered trekking agencies only.

Permit fees are quoted in US$ but payable in Nepali Rupees
Trekking Permits will not be extended past your Visa Expiry Date
2 Passport photos (black/white) required
Information updated November 2001

-
National Park Fees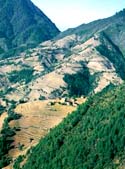 Fourteen areas of Nepal have been designated National Parks, Wildlife Reserve and Conservation Areas (no one speaks about the Hunting Reserve). To trek in any of these areas, you may need an additional permit.
You need to pay a Park Fee of Rs. 1,000 (less than US$ 15). All fees arepayable at the ACAP Office listed below or at the park entrance, but higher fees will have to be paid at the enterance. Trekkers going to the Annapurna Region have to pay a fee of Rs. 2,000 which is payable at the Information and Entry Fee Collection Counter of Annapurna Conservation Area Project (ACAP), Sanchaya Kosh Building, Thamel (Ph 223088 Ex. 363). The toll is utilized for environment conservation and maintenance of the area.
In order to be sure of the current requirements, ask at the Immigration Offices listed below or book with a registered Trekking Agency.
Immigration Office
Hours
Department of Immigration (Kathmandu)
All permits available and only place to get permits over 30 days and into restricted areas. Department of Immigration has move next to the Tourist Service Centre at Bhrikutimandap, on the eastern side of Tundikhel parade ground.

Visa extension and trekking permit applications are accepted from 10:00 to 13:00 only (but not accepted after 12:00 on Friday).

10-17:00 Mid-Feb to Mid-Nov
10-16:00 Mid-Nov to Mid-Feb
Closed at 12:00 Every Friday, all day Saturday, Sunday and Governement Holidays.
Pokhara Immigration Office
Only for Annapurna, Lower Dolpa and miscellaneous areas
Nepalgunj Immigration Office
Mid-Western Region - for permits less than 30 days and restricted areas are not available.
Mustang* and Upper Dolpa*
Eastern Region - for permits less than 30 days and restricted areas are not available.
Mahendranagar Immigration Office Far Western and Mid-Western Region - for permits less than 30 days and restricted areas are not available.
-
18 Peaks opened for trekking groups with permission from Nepal
Mountaineering Association (NMA) are divided into groups A & B below.
Group A: US $300.00 Climbing Royalty for up to 9 persons: Height in Meters
| | | | |
| --- | --- | --- | --- |
| No. | Peak | Height (in meters) | Region |
| 1 | Hiunchuli | 6441 | Annapurna |
| 2 | Singu Chuli | 6501 | Annapurna |
| 3 | Mera Peak | 6654 | Khumbu |
| 4 | Kusum Kangru | 6367 | Khumbu |
| 5 | Kwandge | 6011 | Khumbu |
| 6 | Chulu West | 6419 | Annapurna |
| 7 | Chuku East | 6584 | Annapurna |
| 8 | Island Peak | 6160 | Khumbu |
| 9 | Parchemuche | 6187 | Rolwalling |
| 10 | Lubuje | 6119 | Khumbu |
| 11 | Ramdung | 5925 | Rolwalling |
| 12 | Pisang Peak | 6091 | Annapurna |
Group B: US $150.00 Climbing Royalty for up to 9 persons: Height in Meters
No.
Peak
Height (in meters)
Region
13
Tent Peak
5663
Annapurna
14
Khongma Tse
5849
Khumbu
15
Naya Kanga
5844
Langtang
1

6

Pokhalde
5806

Khumbu

17
Mardi Himal
5587
Annapurna
18
Palder Peak
5896

Langtang
See VisitNepal.com's Trekking: Reference: Mountaineering Adventures for Non-Climbers for general information. For complete details about Peak Trekking, Mountaineering and Expeditions, visit our sponsors.
related topics
other topics viewed by visitors