Beyond Nepal
> Sikkim
> Bhutan
> Tibet
More Information
> MEDICAL & HEALTH
> RESERVATONS, VISA & PERMITS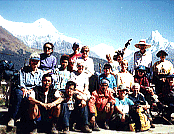 About Us
Snow Leopard Trek (P) Ltd. is an ecologically sensitive, government registered, adventure travel company in operation since 1985. We are passionate about conservation, adventure and celebration of the unique biodiversity of the Himalayas. We believe in encouraging travelers to learn, live and celebrate with the local communities and would want you to experience the hospitality and warmth of the Himalayan people. Our efforts lie in providing you the most memorable experience so that you leave with open and warm hearts.

Our Managing Director, Yankila Sherpa, has been associated with the Trekking Agents Association of Nepal (TAAN), which is a national level organization working for the welfare of the trekking agencies in Nepal. She has been involved with TAAN as the first 1st Vice President from 1992 till 1996 & then after, the first woman President of TAAN (1996-1998). She is currently in the advisory board of the Nepal Mountaineering Association (NMA).

Snow Leopard Trek is manned by a team of full time professional Sherpa mountaineers, guides, cooks and other field staff Sherpas who receive regular training in selection of trekking routes and courses related to eco-trekking such as high altitude sickness and its treatment and simple first aid. The cooks are trained to prepare a wide variety of Nepali, Chinese and Continental cuisine suitable for trekkers. Emphasis is given to the training of our cooks in preparing meals with special attention on health, hygiene and sanitation during cooking. All vegetables, fruits and utensils are treated before preparation and consumption. Water is well boiled and filtered.

Today, we are also proud to announce that Snow Leopard Trek is the only agency that has received the "Abraham Conservation Award" given to a tourism agency for the first time in Nepal (on 5th June 2000). World Wildlife Fund (WWF) gave this award through the hands of the then Prime Minister of Nepal to individuals and agencies in recognition of their outstanding contribution to nature conservation and eco-tourism in Nepal. Snow Leopard has been well recognized for conducting the eco- trekking in- house workshops for all its staffs. These workshops have made us strictly adhere to the norms of ecologically friendly trekking which means that we use no wood for fuel and we bring back or make proper diposal of all non biodegradable wastes. Our company has been recommended by the Los Angeles times of USA, the English Daily Mail of UK and by Thalia Zapatos of the Eco traveller magazine.