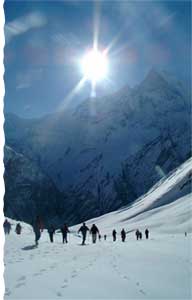 Why Go With Adventure Fairsteps Holiday Treks & Expedition
Adventure Fairsteps Holiday Treks & Expedition offers a choice of camping treks in Nepal and Tibet. Managed and operated by a group of dedicated and experienced people who are not only well versed in the adventure travel service business but also are committed to Conserving our natural and cultural diversity. Our treks, tours and river rafting trips are well equipment, offer optimum safety, and provide guides who have first hand knowledge of the routes, natural history and cultural background. Trained Trek Guides and Sherpas each of our treks is managed by a team of professionally trained trek guide, cook and Sherpas.
Our leaders/guides and trek crew are committed to providing a safe and enjoyable holiday to our clients and in a Adventure Fairsteps Holiday Treks & Expedition friendly manner.
High Quality Camping Equipment All our camping-treks are outfitted with the highest quality equipment available. Comfortable dome or 'A' frame tent, foam mattress, dinning tent with camp chairs and tables and a toilet tent are standard equipment on all our camping treks.
You don't need to be a mountaineer with rippling muscles to enjoy trekking. If you are reasonably fit and not afraid of walking, you qualify; thus have a spirit of adventure. We take care of all the details like government permits, air/bus tickets, guides, porters, foods, tents, etc.
COME TO NEPAL FOR ANEXPERIENCE OF UNSURPASSED BEAUTY AND ADVENTURE.
Enjoy magnificent views of the highest snowy peaks in the world. Explore Kathmandu's busy, narrow streets of colorful open markets and bazaars, visit fascinating Buddhist monasteries and Hindu temples. Trek along terraced hillsides through friendly villages where a simple lifestyle still exists. Cross deep mountain gorges on delicate, but sturdy, suspension bridges.